When folks in Allen think of Memorial Day, we usually think about getting together with friends and family for barbeques, going to parades and unofficially (officially) celebrating the start of summer season. Public pools, amusement parks, and other seasonal places open and the summertime fun begins.
These are the freedoms we enjoy, the freedoms we're supposed to enjoy. They're the freedoms every hero who becomes part of our military is willing to lay down their lives to protect. Some do exactly that, and it's those brave, fallen heroes we honor on Memorial Day.
In the interest of remembering the fallen and enjoying the freedoms they gave the ultimate sacrifice for, here are two lists.  One is an interesting list of different facts about Memorial Day and the other is a list of events commemorating the day.
Some facts about Memorial Day
Memorial Day has been celebrated in the United States for almost 150 years.
Memorial Day was created as a day dedicated to honor and remembrance for all those who died in service of the United States, inspired by the 500,000 deaths of soldiers in the Civil War.
Memorial Day was originally called 'Decoration Day
Since the Civil War, however, over 1,000,000 soldiers have died in various wars.
Every year, thousands of people enlist in the military; meaning thousands of people are willing to risk their lives to protect our rights and freedoms.
In 2000, a National Moment of Remembrance resolution was passed, asking Americans to take a moment and remember those who died for their freedom. The National Moment of Remembrance is supposed to occur at 3 p.m. local time on Memorial Day each year.
Flags across the country are ordered to remain at half staff from morning until noon. Then, they are raised to full staff. The flag at half staff is supposed to symbolize all the soldiers we've lost over the years, and raising the flag to full staff is supposed to represent our remembrance and appreciation of their lives.


---
Events in Allen and DFW: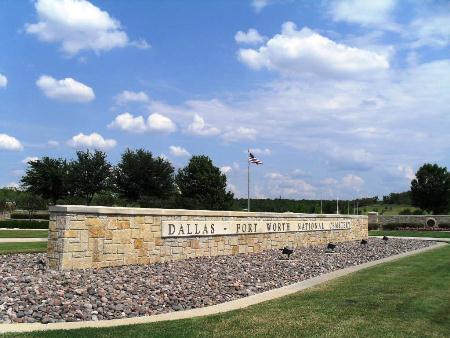 Dallas-Fort Worth National Cemetery
2000 Mountain Creek Parkway
Dallas, TX 75211
(214) 467-3374
Ceremony: May 27 at 11:00 a.m.
Dallas-Fort Worth National Cemetery
---
This Event RepeatsUntil May 27
In honor of our armed forces, the Arboretum offers free admission into the main garden on May 25-27 to active duty members and veterans of the U.S. military and to first responders (must show valid photo ID). There will also be special activities, which are free with paid garden admission.
---
A Granbury
Spend Memorial Weekend in Granbury for a patriotic weekend to remember. The weekend honors those who gave the ultimate sacrifice for our country, and also kicks off the summer season in Granbury.
The patriotic festival, taking place May 25-27 on the Historic Granbury Square, will feature family activities, arts, and craft booths, food vendors, patriotic live music, vintage military vehicles, hot dog eating contest, a pie baking contest, activities for the entire family, and so much more.
Make your way to Granbury to see a field with thousands of tall American flags waving proudly on Highway 377. The Greater Granbury Chapter of MOAA and its partners: American Legion Post 491, Blue Star Mothers, Marine Corps League and the Granbury Brigade put on the Field of Flags each year. Each flag is dedicated to a hero or group who have given the ultimate sacrifice.
In keeping with the importance of the holiday, a traditional Memorial Day ceremony will take place to remember the heroes lost and honor those still with us. While in town, visitors can also stop by the Granbury Memorial Lane located just off the Historic Granbury Square.
---
---
EVENT SCHEDULE
The Event Begins
Sunday, May 26, 12 pm
Reverchon Park
3505 Maple Ave Dallas TX 75219
The Event Ends
Monday, May 27, 1:30 pm
Reverchon Park
3505 Maple Ave Dallas TX 75219
Sunday, May 26
12:00 to 3:30 PM –  Music/Entertainment
3:30 – Opening Ceremony
4:30 – March begins
6:00 – Vietnam Pinning Ceremony
7:00 to 8:00 – Music/Entertainment
8:00 –The Ripple Film
Monday, May 27
11:30 AM – Closing Ceremony
The centerpiece of the two-day event that begins at 12 pm on Sunday and culminating 1:30 pm on Monday. The March is the symbol of how Carry The Load started, represents carrying the fallen heroes we honor, and we welcome you to join whether for 20 hours or 20 minutes. View the Site Map and the Route Map.
Reverchon Park in Dallas hosts the two-day event featuring music, inspirational speeches, stories of fallen heroes, flag ceremonies and more. No registration or payment is required to attend — we simply ask you to respect those who have given everything to protect and serve us all. View Parking Information for the event.
Camping
Pitching a tent is a great way to bond with friends and family, while meeting kindred spirits from the community — all while enjoying the full two days of festivities. View Camping Information for the event.
VIP Village / Tailgating
Teams that raise $5000 or more on their team page before May 17th will earn a spot in the VIP Village. View the details on loading/unloading and guidelines for tailgating inside Reverchon Park.
Website:  https://www.carrytheload.org/site/PageServer?pagename=dallas_memorial_march
---
Memorial Day Music Fest
Sun, May 26– atMuse Family Performance Pavilion
Join us as the lawn comes alive with the Park's first-ever music festival.
Check out performances across multiple stages throughout the day and into the night. Each stage will feature music from a variety of genres to satisfy lovers of rock, jazz, country and more. Between performances, explore vendor booths, play in the family game zone, have your face painted and feast on bites from our famous food trucks. Scroll down to read event information!
Pavilion Stage
2:45 PM David Beck's Tejano Weekend
4:30 PM Joe McBride and The Texas Rhythm Club
6:10 PM Blacktop Mojo
8:30 PM Jonathan Tyler
West Lawn Stage
2:00 PM Billie Jo from "Real Country"
3:45 PM The Powell Brothers
5:20 PM The Effinays
7:10 PM Blane Howard 
East Lawn Stage
2:00 PM American Bedouin
3:45 PM Rob Holbert
5:20 PM Fusion Latina
7:10 PM Tatiana LadyMay Mayfield
We want you to be prepared for your visit to the Park, so here are a few things to keep in mind:
Parking
Thanks to a new partnership with Platinum Parking, there is $10/all-day access to FIVE nearby parking garages. 
Klydewarrenpark.org/Visit-the-Park
 has all the parking information you need.
Ridesharing
Alto is offering a $10 discount for rides to the Music Fest with promo code KWPMUSIC.
Click 
here
 for more information and to download the app.
(Please note, Sunday hours are 10 AM – 10 PM)
What to Bring
NO TICKETS ARE NEEDED.
Blankets, coolers, folding chairs, refillable water bottles (water also available for purchase), listening ears and boogie shoes.
What NOT to Bring
Outside alcohol or glass (we will be conducting cooler checks), weapons of any kind, any illegal substances or items or any items prohibited at the Park.
No smoking or vaping.
See Park Guidelines below for a complete list of prohibited items.
Park Guidelines
We would like all guests to follow normal Park guidelines. For more information,
Sponsors
Thanks to our sponsors Alto, American Federation of Musicians, CBS11, Executive Press, iHeartRadio, KIND, Rockit Resource Group, Southwest Airlines, The Dallas Morning News, and Zephyr Gin.
We hope to see you!
https://www.klydewarrenpark.org/Things-To-Do/events/memorial-day-music-fest.html
---
Memorial Day at the Texas Pool
---

---
DSO Memorial Day Concert and Fireworks Display
MEMORIAL DAY AT FLAG POLE HILL
CONCERT + FIREWORKS
MONDAY MAY 27 | 8:15 PM
NIA FRANKLIN, MISS AMERICA
8100 Doran Circle,
Dallas, TX 75238
Rain site: Meyerson Symphony Center
2301 Flora, Dallas TX 75201​
The Dallas Symphony Orchestra begins its outdoor Parks Concert series with the annual Memorial Day concert at Flag Pole Hill near White Rock Lake. A rousing program of patriotic music will culminate with a fireworks display. The casual, outdoor concert is free to attend.
website:  https://www.guidelive.com/things-to-do/316225/dso-memorial-day-concert-and-fireworks-display-flag-pole-hill-dallas
---
---
References and special thank you to the following sites:  https://www.guidelive.com/things-to-do/306009/memorial-day-weekend-dallas-arboretum
https://www.theodysseyonline.com/importance-of-memorial-day
https://www.klydewarrenpark.org/Things-To-Do/events/memorial-day-music-fest.html
https://www.carrytheload.org/site/PageServer?pagename=dallas_memorial_march
https://www.texaspool.org/
https://www.guidelive.com/things-to-do/316225/dso-memorial-day-concert-and-fireworks-display-flag-pole-hill-dallas